Yet another website from the entrepreneurial people of Inverloch, they are on fire down there! Great images and a neutral colour scheme makes this site a pleasure to shop on.
Built on: Shopify
Rumble Coffee is well known brand down here in Melbourne but they were struggling with maintaining their Woo Commerce site. We were only happy to help them get up and running on Shopify.
Built on: Shopify
The brains behind Flora Remedia has a healthy Social Media following and customer base and just needed a site refresh to keep up with current trends.
Built on: Shopify
With an established bricks and mortar store it was time for an upgrade on White Woods online presence. Using one of the newest and most versatile Shopify themes, with some added customisation, made this project a success.
Built on: Shopify
High quality furniture and high quality images make for the perfect combination of style and design for this new Shopify store.
Built on: Shopify
The demographic of the customers for MKP is the under 30's so it was very important that the design focus to mainly be on mobile view, but it also needed to look great on a laptop. We think we succeeded!
Built on: Shopify
Having a pretty unique idea (for the online world) combined with using a graphic designer to make the most of great images, made this a fun project to work on with a beautiful final product.
Built on: Shopify
Bayside's practice has a clean, nordic design and it is shown off beautifully with their professional photography and a new modern website.
Built on: Squarespace
Inspired by the coastal lifestyle of her small Victorian home town, Tamara from Betty Lane provided fantastic imagery showcasing her line of everyday essentials through to boho chic.
Built on: Shopify
The team at Moyork needed fully customised product pages to show their products full design features. This site proves that great imagery, yields great results.
Built on: Shopify
Pridal Services are an Adelaide painting company, and as the owner is a lover of bright colours it was a great opportunity for us to work on our creative side to give him a bright knockout website.
Built on: Squarespace
As one of the top Italian cycling brands, Ale needed and Aussie presence for local customers. Beautiful Italian scenes in the images certainly made it fun to work on!
Built on: Shopify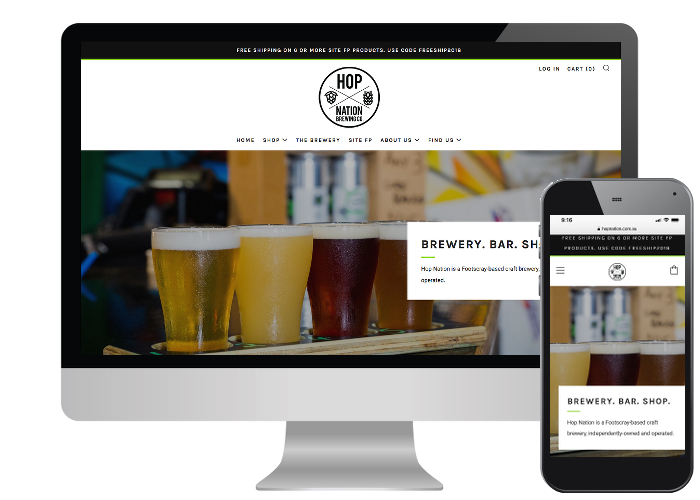 Hop Nation is an inner city craft brewery with an industrial feel offering beers brewed on site, a bar and now an online store. Their images did most of the talking, we just needed to showcase the products & venue which we think we have done!
Built on: Shopify
With an already established bricks and mortar store, it was time for Melbourne HiFi to update their online offering to compete in an ever evolving marketplace.
Built on: Shopify
This is the second site for the M1 Group and the main requirements were to compliment yet also offer unique style and branding to set it apart.
Built on: Wordpress
We had previously designed Moorgate a Squarespace website but the team decided it was time for an upgrade so we moved them to Wordpress and they are loving it!
Built on: Wordpress
Heathmont wanted to be able to direct their visitors down the right path for their financial needs, so a Squarespace website with landing page was the perfect option.
Built on: Squarespace
CHAT TO US, WE DON'T BITE!
Contact us for free information & advice on how Insider Media can help your business
03 8529 9798 | contact@insidermedia.com.au